Audrey Hanson McIntosh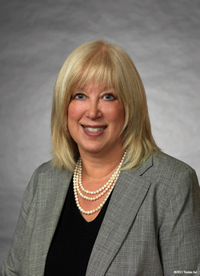 Audrey Hanson McIntosh earned a Bachelor of Arts from the University of Iowa in English and Speech and Dramatic Arts (Rhetorical Studies).  Commissioner McIntosh graduated from the Saint Louis University School of Law in 1983.  She served as a Managing Editor of the Saint Louis University Law Journal.
McIntosh engaged in private practice in St. Louis from 1983-1985 with Cupples & Cooper, P.C. Upon relocating to Jefferson City, she became an Assistant Attorney General and served from 1985-1993.  As an Assistant Attorney General, McIntosh represented several professional licensing boards and commissions including the State Board of Registration for the Healing Arts. She also served as a Unit Chief in the Governmental Affairs Division, supervising nine attorneys and representing state elected officials and state agencies including the Missouri Gaming Commission, Missouri Lottery Commission, Department of Economic Development, State Treasurer, Office of Administration and Department of Education.  She was the project director of the Second Injury Fund under Attorney General Nixon and implemented and coordinated the state-wide plan for bringing in-house 37,000 workers' compensation cases in ninety days. 
From 1985-2015, McIntosh engaged in private practice in Jefferson City first as a member of Hawkins Law Offices, LLC and then Allen, Holden & McIntosh Law Offices, LLC.  In 2001, McIntosh became a solo practitioner in a general civil practice with emphasis on litigation involving administrative law issues, rulemaking, state governmental bids school funding, the initiative processes and other state governmental relationships.
McIntosh has spoken on administrative law topics and medical legal topics to statewide physician conferences and other groups and has been a speaker for continuing education for the Missouri Bar Solo and Small Firm Conference. She was a member of the Regional Disciplinary Committee Region VII from 1999-2002.  McIntosh was published in the Missouri Bar CLE Deskbook, Professional Licensing, II Mo. Administrative Law.
Commissioner McIntosh is a member of First Baptist Church, actively volunteers for the Mid Missouri Tigers Hockey Club and is married and has two sons.